*This post may contain affiliate links
Personally, I don't pay much attention to what I wear to the airport. I only have one requirement: It has to be comfy as hell because I'm going to be stuck in it for a while. Yes, imagine hoodie, jeans and a pair of my favorite kicks – my staple wear. Once you've boarded the plane, all you need to do is sit tight for God knows how long depending on where you're headed and pretend you enjoy flying.
However, there had been a few occasions when I really wanted to try looking a little bit more sophisticated so that immigration officers would stop mistaking me for an unaccompanied minor or maybe get chosen for a free flight upgrade just in case a refined appearance is included in the judging criteria. I never got to convince myself that a huge backpack and heels compliment each other though because maybe it really doesn't. And I always carry a backpack! That kind of ruins the whole "chic" ensemble, don't you think?
But for you ladies who can pull it off and believe that a stylish getup is essential, here are some airport outfit inspirations for different seasons you should definitely steal!
Cool and breezy
Don't you just love traveling to warmer destinations when you can fit in as many lightweight clothes as possible into your luggage? While plain, light-colored tanks and blouses are great for classic and monochromatic look, you can definitely go crazy with bold colors and prints – something that fits your personality better! Don't limit yourself; have fun digging out unique summer pieces from your closet!
Want to stick to flats? Switch to cute sandals or espadrilles. If you're headed to the beach and it's simply over an hour's plane ride, just slip into your flip-flops and you're good to go! No need to crack your head.
Fun and flirty
Welcome spring with fresh assortment of colorful crop tops lined with ruffles! Trend alert: it's still in style! Of course it wouldn't be too much to pair it with a set of luggage that will make you look as if you're parading the entire Keukenhof Gardens with you. Just look at these:
And why not show off those glorious, sexy gams – in leather?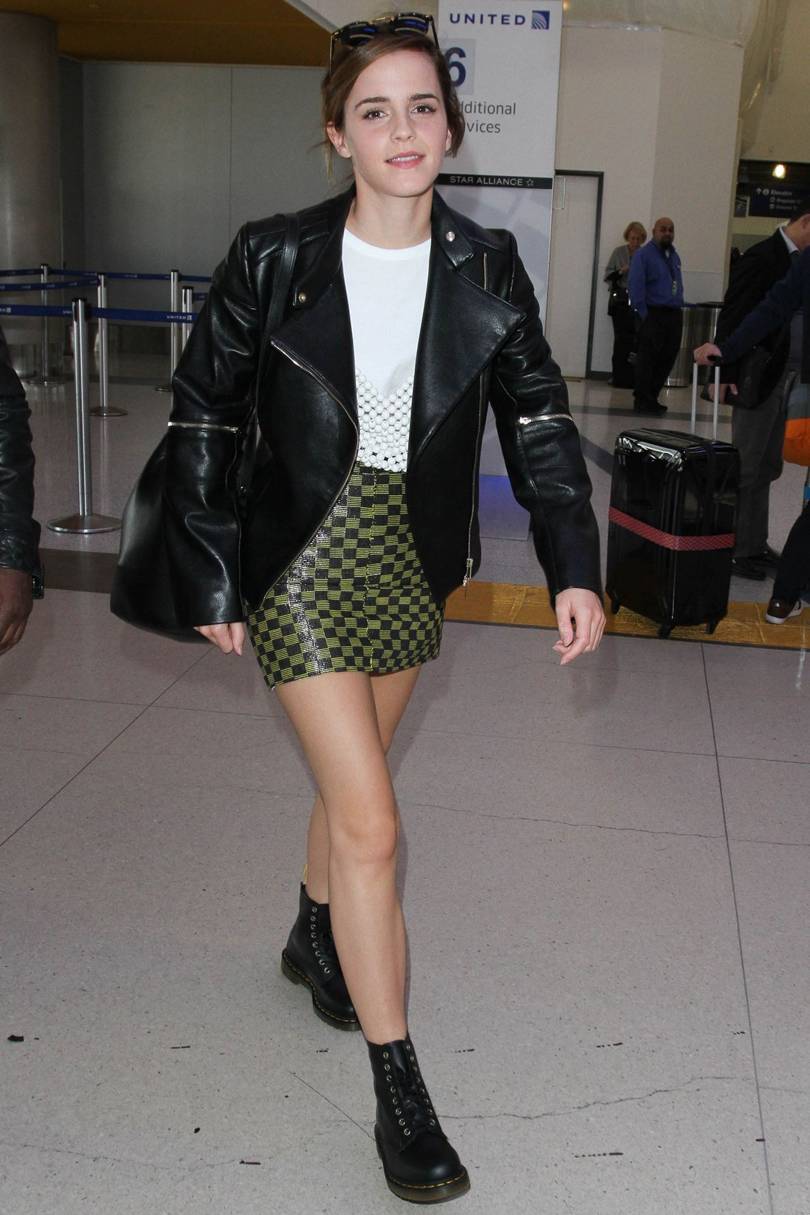 What's your pick? Button down shirts, boyfriend dresses, rompers, or jumpsuits? I don't know about you but they all look comfy enough to me! No need to spend too much time putting it together. Just wear them and forget them. One of the few things you'll do is to choose the right kind of stripes. Remember, vertical stripes to elongate your body and if you want to look slimmer!
Girly and glam
Doll up with the simplest to the fanciest garments you can find. Turn the entire airport into a massive runway! Why? Because you can! Your fab skirts and sundresses are waiting for you to take them away!
Get anyone's attention in a snap with a perfectly tailored, brightly-colored outfit and stride with finesse like Victoria Beckham. Everyone will know you're not just a high flier, but also someone with an elevated sense of style!
Casual and edgy
I usually spot the denim-leggings combo or leather-leggings combo and I think I like it. I find that it has a natural spunky feel to it. Yeap, the latest issue about leggings do not really bug me. You know the real reason why the leggings-clad girls were denied to board United Airlines, right? It was because they were traveling on a company benefit ticket/a "pass" ride – which means that they must follow a dress code since they are considered representatives of United.
So yes, back to leggings – you can also match it with any type of footwear you are up for from sneakers to knee-high boots. It seems easy to downplay or accentuate this outfit – give it a shot!
Sporty and carefree
Have you seen that parody video yet? It's about females who never take off their gym clothes and wear it anywhere they go, no matter what they're doing? I'm guilty of that. It serves a multitude of purpose in my life now – I workout in it; sleep in it; do my groceries in it; explore cities in it – without even realizing what it's really intended for. That's how ultra versatile and snug it is! So yes to athletic inspired getups!
What do you wear to the airport? What are outfits you absolutely like bringing to your travels? Share it with me!
Disclaimer: This post contains affiliate links, which means that if you click on one of the product links and decide to buy it, I will make a small commission with NO additional cost to you. 🙂